---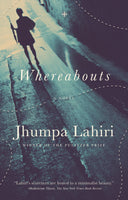 Whereabouts
Jhumpa Lahiri
JESSICA'S PICK
Reading this reminded me of James Baldwin when he said: "Everyone you're looking at is also you." This novel is a delicately written tour of the interior life on an anonymous narrator in a vibrant city. Perfect for eavesdroppers, people watchers and those who are curious about bridges of unknowability. - JK

Jhumpa Lahiri's ravishing new novel follows an unnamed narrator in an unnamed city. In the arc of one year, in the middle of her life's journey, she realizes that she's lost her way.
 
Whereabouts celebrates ordinary life and community while exploring existential themes of presence and absence. Lahiri's narrator, a woman questioning her place in the world, wavers between stasis and movement, between the need to belong and a refusal to form lasting ties. The city she calls home acts as her companion and interlocutor: traversing the streets around her house, and in parks, piazzas, museums, stores, and coffee bars, she feels less alone. We follow her to the pool she frequents, and to the train station that leads to her mother, who is mired in her own solitude after her husband's untimely death. Among those who appear on this woman's path are colleagues with whom she feels ill at ease, casual acquaintances, and "him," a shadow who both consoles and unsettles her. Until one day at the sea, both overwhelmed and replenished by the sun's vital heat, her perspective will abruptly change.
 
Whereabouts is an exquisitely nuanced portrait of urban solitude, one that shimmers with beauty and possibility. It is also a thrilling departure for Jhumpa Lahiri, her first novel written in Italian as well as the first time she has self-translated a full-length work. The reader will find the qualities that make Lahiri's work so beloved: deep intelligence and feeling, richly textured physical and emotional landscapes, and a poetics of dislocation. But this novel, a play of shadow and light, also signals a bold shift of style and sensibility, and an artist reveling in a new form.
Paperback || 176 pages || 5.18" x 8.00"