---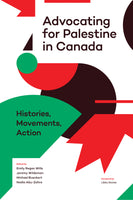 Advocating for Palestine in Canada
Emily Regan Wills (CA)
Why is it so difficult to advocate for Palestine in Canada and what can we learn from the movement's successes?
This account of Palestine solidarity activism in Canada grapples with these questions through a wide-ranging exploration of the movement's different actors, approaches and fields of engagement, along with its connections to different national and transnational struggles against racism, imperialism and colonialism. Led by a coalition of students, labour unions, church groups, left wing activists, progressive presses, human rights organizations, academic associations and Palestinian and Jewish community groups, Palestine solidarity activism is on the rise in Canada and Canadians are more aware of the issues than ever before.
Palestine solidarity activists are also under siege as never before. The movement advocating for Palestinian rights is forced to contend with relentless political condemnation, media blackouts, administrative roadblocks, coordinated smear campaigns, individual threats, legal intimidation and institutional silencing. Through this book and the experiences of the contributing authors in it, many seasoned veterans of the movement, Advocating for Palestine in Canada offers an indispensable and often first-hand view into the complex social and historical forces at work in one of our era's most urgent debates, and one which could determine the course of what it means to be Canadian going forward.
Paperback | 224 pages | 6.00" x 9.00"