---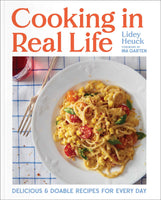 Cooking in Real Life [MAR.12]
Lidey Heuck
EXPECTED RELEASE MAR 12, 2024
THIS IS A PRE-ORDER ITEM; RELEASE DATES ARE SUBJECT TO CHANGE/DELAYS 
From the rising star who learned to cook when she worked for Ina Garten and inherited the Barefoot Contessa's intuition for what people want to cook, 100 recipes that are cook-pleasing and crowd-pleasing and written with the shopper, chopper, and dish-doer in mind.

As any Ina Garten fan will attest, Lidey Heuck landed the most plum after-college job—working for Ina in her East Hampton kitchen. There, she learned how to develop recipes that work every time and how to put together dishes that are at once special and unfussy.

Cooking in Real Life represents the golden middle ground that new and experienced home cooks crave: recipes that are inventive but not overly complicated, that use familiar ingredients but encourage us to do things a little bit differently. They are designed to be low-effort, practical, and high-reward. Lidey combines straight-forward delicious cooking with innovative, vegetable-forward recipes, inspired by bold flavors from near and far. Chapters and recipes include the following:

Busy, fuss-free weeknights: Salmon with Honey and Chili Crunch, Cider-Glazed Sausages with Apples and Fennel, Saucy Shrimp alla Vodka. Plus, dozens of ideas for turning single recipes into one complete meal (Think: adding some sauteed shrimp to Shaved Carrot Salad with Ginger Tahini Dressing).

Flexible, seasonally-inspired recipes with easy-to-find ingredients: Maple-Roasted Squash with Grapes and Shallots, Escarole with Cara Cara Oranges, Spicy Paloma Punch.

Celebratory dishes for occasions that call for something extra special: Short Ribs with Port, Shallots, and Cranberries; Champagne Chicken; and Rainbow Sprinkle Ice Cream Cake.

Throughout, Lidey includes swaps, make-ahead hacks, and tips for making leftovers into something new. Cooking in Real Life meets you where you are—whether you're here for the practical tips or the endless possibilities.
Hardcover | 288 pages | 8.00" x 10.00"