---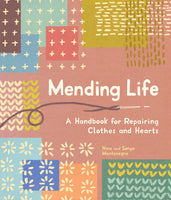 Mending Life
Nina Montenegro
Learn the art of visible mending—a joyful, meditative, and restorative practice—to repair the clothes and belongings you love!

Mending Life, a beautiful modern sewing and mending guide with vibrant, full-color illustrations woven throughout, encourages us to break free from the fast fashion industry by repairing our clothes rather than discarding them. Along with DIY and how-to illustrations and tutorials, you'll find heartfelt stories by authors Nina and Sonya Montenegro (creators of the popular @TheFarWoods) that encourage you to change your consumption habits, celebrate a sustainable, intentional lifestyle, demonstrate mending as a powerful act that not only strengthens the object we are repairing, but ourselves as well. 

Beginners and Seasoned Sewers will find:

Basic Mending Skills - how to thread a needle, how to tie knots, and basic stitches
Sashiko - a striking Japanese hand-sewing technique for reinforcement and decoration
Darning - plain weave, swiss weave, crocheted patch, knitted patch, and needle-felted patch
Patching - the best three ways to patch holes how-to guide
Mending Tutorials by Item - down jackets, shirt cuffs, and linen
Other Common Repairs - snags, buttons, belt loops, leggings, pant pockets, and more
Sewing Beyond Mending - hemming pants, taking garments in, and adding pockets

Extend the life of your favorite clothes and beloved household items with mending with this timeless and practical guide to cherishing and caring for our belongings.
Paperback | 224 pages | 7.28" x 8.50"