---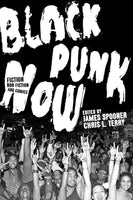 Black Punk Now
Chris L. Terry
A canonizing, bold, and urgent anthology setting a new precedent for Black Punk Lit, created by generations of Black punks—featuring both new voices and those from the not-so-recent past

Black Punk Now is an anthology of contemporary nonfiction, fiction, illustrations, and comics that collectively describe punk today and give punks—especially the Black ones—a wider frame of reference.  It shows all of the strains, styles, and identities of Black punk that are thriving, and gives newcomers to the scene more chances to see themselves.

Curated from the perspective of Black writers with connections to the world of punk, the collection mixes media as well as generations, creating a new reference point for music-lovers, readers, and historians by capturing the present and looking towards the future. With strong visual elements integrated throughout, this smart, intimate collection is demonstrative of punk by being punk itself: underground, rebellious, aesthetic but not static—working to decenter whiteness by prioritizing other perspectives.

Edited by graphic novelist and filmmaker James Spooner, and author Chris L. Terry, contributors to the collection include critic Hanif Abdurraqib and Mars Dixon, conversations with Brontez Purnell, and a roundtable of all femme festival organizers.
Paperback | 352 pages | 5.52" x 8.25"