---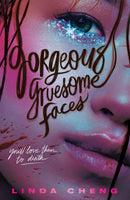 Gorgeous Gruesome Faces
Linda Cheng (CA)
A cutthroat K-pop competition leads to a dark obsession in this twisty horror-romance, perfect for fans of She Is a Haunting

"A perfect blend of folk horror and dazzling showbiz that will grip you from page one." Trang Thanh Tran, New York Times-bestselling author of She is a Haunting

"The sweetest spot between horror and romance." âChloe Gong, #1 New York Times-bestselling author of These Violent Delights

You'll love them to death . . .

THEN:

Sunny Lee is on the top of the world. She's one third of Sweet Cadence, the hottest up-and-coming teen pop group, alongside her new BFFs, Candie and Mina. The three are inseparable as they ride their way to the top of the charts, even as Candie and Sunny fight to resist the growing spark between them. But when a shocking scandal breaks, the group is suddenly torn apart. Then the unthinkable – Mina dies tragically right before Sunny and Candie's eyes. And Sunny suspects the dark and otherworldly secrets she and Candie were keeping may have had something to do with it . . .

NOW:
For the past two years, Sunny hasspent her days longing for her former life and her nights wondering just what caused Mina's death. So when she discovers that Candie is attending a new K-pop workshop right in her hometown, Sunny has no choice but to follow her there. Candie might be chasing stardom again, but Sunny is only after one thing: answers.

At the workshop, the lines between nightmare and reality start to blur as Sunny is haunted by ghostly visions and her competitors' bodies turn up bizarrely maimed and mutilated. To survive the twisted carnage, Sunny will have to expose the ugly truth behind the workshop's spotlights and the sinister forces swirling around Candie. Stitched with cutting commentary on the ugly side of stardom and impossible beauty standards, Linda Cheng's mind-bending thriller will have readers screaming and swooning for more.
Hardcover | 30 pages | 5.80" x 8.55"