---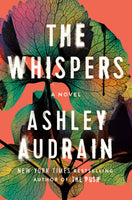 The Whispers
Ashley Audrain (CA)
From the #1 bestselling author of The Push, a propulsive page-turner about four suburban families whose lives are changed when the unthinkable happens—and what is lost when good people make unconscionable choices

On Harlow Street, the well-to-do neighbor­hood couples and their children gather for a barbecue as the summer winds down. Everything is fabulous until Whitney, the picture-perfect hostess, explodes in fury because her son disobeys her. Everyone at the party hears her exquisite veneer crack—loud and clear. Before long, that same young boy falls from his bedside window in the middle of the night. And then his mother can only sit by her son's hospital bed, where his life hangs in the balance.

Over the course of a tense three days, the women of the neighborhood grapple with what led to that terrible night. People-pleasing Blair, Whitney's best friend, suspects something isn't as it seems. Rebecca, the ER doctor who helps treat Whit­ney's son, has struggled to have a child of her own. And the all-knowing Mara, the older woman next door, watches everyone's world unravel from her front porch.

Exploring envy, women's friendships, desire, and the intuitions that we silence, The Whispers is a chilling novel that marks Ashley Audrain as a major fiction talent.
Paperback | 336 pages | 6.36" x 8.95"