---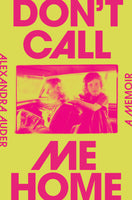 Don't Call Me Home
Alexandra Auder
JILL'S PICK
This has been my summer of gossipy, name-dropping memoirs and my favourite one by far was Auder's coming of age tale of growing up in NYC in the '80s, as the daughter of Warhol actress Viva and the older sister of Gaby Hoffman. Auder has a funny, smart and chatty conversational writing style that I missed being immersed in immediately after finishing this book.

A moving and wickedly funny memoir about one woman's life as the daughter of a Warhol superstar and the intimate bonds of mother-daughter relationships

Alexandra Auder's life began at the Chelsea Hotel—New York City's infamous bohemian hangout—when her mother, Viva, a longtime resident of the hotel and one of Andy Warhol's superstars, went into labor in the lobby. These first moments of Alexandra's life, documented by her filmmaker father, Michel Auder, portended the whirlwind childhood and teen years that she would go on to have.

At the center of it all is Viva: a glamorous, larger-than-life woman with mercurial moods, who brings Alexandra with her on the road from gig to gig, splitting time between a home in Connecticut and Alexandra's father's loft in 1980s Tribeca, then moving back again to the Chelsea Hotel and spending summers with Viva's upper-middle-class, conservative, hyperpatriarchal family of origin.

In Don't Call Me Home, Alexandra meditates on the seedy glory of being raised by two counterculture icons, from walking a pet goat around Chelsea and joining the Squat Theatre company to coparenting her younger sister, Gaby, with her mother and partying in East Village nightclubs. Flitting between this world and her present-day life as a yoga instructor, actress, mother, wife, and much-loved Instagram provocateur, Alexandra weaves a stunning, moving, and hilarious portrait of a family and what it means to move away from being your mother's daughter into being a person of your own.
Hardcover | 336 pages | 6.29" x 9.27"