---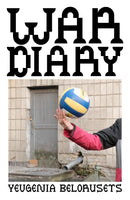 War Diary
Yevgenia Belorusets
EMILY'S PICK
North Americans believe that war happens elsewhere. Until it doesn't. This book is a chance to imagine the reality of armed conflict through its lucid testimonies of the atrocities in Ukraine, right from the beginning.
The young artist and writer Yevgenia Belorusets was in her hometown of Kyiv when Putin's "special military operation" against Ukraine began on the morning of February 24, 2022.
With the shelling of Kyiv, Kharkiv, Odessa, and Kherson, the war with Russia had clearly, irreversibly begun: "I thought, this has been allowed to happen, it is a crime against everything human, against a great common space where we live and hope for a future." With power and clarity, the War Diary of Yevgenia Belorusets documents the long beginning of the devastation and its effects on the ordinary residents of Ukraine; what it feels like to interact with the strangers who suddenly become your "countrymen"; the struggle to make sense of a good mood on a spring day; the new danger of a routine coffee run. First published in the German newspaper Der Spiegel and then translated and released each day on the site ISOLARII (and on Artforum), the War Diary had an immediate impact worldwide: it was translated by an anonymous collective of writers on Weibo; read live by Margaret Atwood on International Women's Day; adapted for an episode of This American Life on NPR; and brought to the 2022 Venice Biennale by President Zelensky as part of the pavilion "This is Ukraine: Defending Freedom."
Paperback || 128 pages || 5.20" x 8.10"