---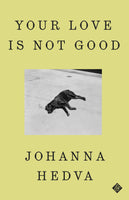 Your Love is Not Good
Johanna Hedva
JILL'S PICK
A modern social satire addressing whiteness, power, gender, sexuality and the fair-ification of the contemporary art world. Heva's writing is tight, smart, sexy and playful. I read this over one weekend. 
An artist of color becomes obsessed with a white model in a novel with the glamor of Clarice Lispector and the viscerality of Han Kang.
At an otherwise forgettable party in Los Angeles, a queer Korean American painter spots a woman who instantly controls the room: gorgeous and distant and utterly white, the center of everyone's attention. Haunted into adulthood by her Korean father's abandonment of his family, as well as the specter of her beguiling, abusive white mother, the painter finds herself caught in a perfect trap. She wants Hanne, or wants to be her, or to sully her, or destroy her, or consume her, or some confusion of all the above. Since she's an artist, she will use art to get closer to Hanne, beginning a series of paintings with her new muse as model. As for Hanne, what does she want? Her whiteness seems sometimes as cruel as a new sheet of paper.
When the paintings of Hanne become a hit, resulting in the artist's first sold-out show, she resolves to bring her new muse with her to Berlin, to continue their work, and her seduction. But, just when the painter is on the verge of her long sought-after breakthrough, a petition started by a Black performance artist begins making the rounds in the art community, calling for the boycott of major museums and art galleries for their imperialist and racist practices.
Torn between her desire to support the petition, to be a success, and to possess Hanne, the painter and her reality become more unstable and disorienting, unwilling to cut loose any one of her warring ambitions, yet unable to accommodate them all. Is it any wonder so many artists self-destruct so spectacularly? Is it perhaps just a bit exciting to think she could too?
Your Love Is Not Good stuffs queer explosive into the cracks between identity and aspiration, between desire and art, and revels in the raining debris.
Hardcover | 320 pages | 5.10" x 7.80"