---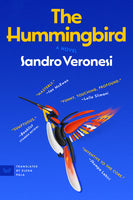 The Hummingbird
Sandro Veronesi
STEPHANIE'S PICK
There are many stories of love and loss, but few so special as this one. Told through letters, emails, narrative, dialogue and even the odd inventory, this book is a must for fans of Ferrante, Calligarich, and Ginzburg. - SC
Translated from the Italian by Elena Pala
The #1 international sensation from a master of European literature—winner of Italy's Premio Strega—a saga of a Florentine family from the 1960s to the present that brilliantly captures the power of history and the multi-faceted experience of life itself as it explores how we contend with uncontrollable forces that both buffet and buoy us. 

Marco Carrera is "the hummingbird," a man with an almost supernatural ability to remain still amid the chaos of an ever-changing world. Though his life is rife with emotional challenges—suffering the death of his sister and the absence of his brother; caring for his elderly parents; raising his granddaughter when her mother, Marco's own child, is no longer capable; loving an enigmatic woman—Marco carries on with a noble stoicism that belies an intensity for living. As the years pass and the arc of his life bends, Marco finds himself filled with joy for the future as the baton passes from him to the next generation. 
A beautiful and compelling journey through time told in myriad narrative styles, The Hummingbird is a story of suffering, happiness, loss, love, and hope—of a man who embodies the quiet heroism that defines daily life for countless ordinary folk. A thrilling novel about the need to look to the future with hope and live with intensity to the very end, Sandro Veronesi's masterpiece—eminently readable, rich in insight, and filled with interesting twists and revelations—is a portrait of human existence, the vicissitudes and vagaries that propel and ultimately define us.
Paperback || 304 pages || 5.31" x 8.00"