---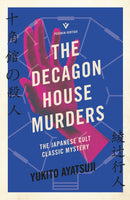 The Decagon House Murders
Yukito Ayatsuji
JORELL'S PICK
The ability to keep twists fresh in a murder mystery becomes difficult when tropes start to repeat themselves throughout different stories. Yukito Ayatsuji's 'The Decagon House Murders' cast of characters' familiarity with these tropes creates an atmosphere where you second guess each clue due to the possibility of everyone trying to either play into or fake out each other in solving for the killer.
To celebrate AAPI heritage month, we are happy to announce a delicious collaboration with our go-to lunch spot in the Junction, Tam Restauraunt. We've asked their amazing team to share their fave AAPI authored/illustrated books with us. If you purchase one of their staff picks, keep the receipt so that you can show it next time you swing by for a bite to get 10% off! We highly recommend the thịt kho, a classic bánh mì, or the vegan phở. Offer valid until the end of May.


Taking its cues from Agatha Christie's locked-room classic And Then There Were None, the setup is this: The members of a university detective-fiction club, each nicknamed for a favorite crime writer (Poe, Carr, Orczy, Van Queen, Leroux and — yes — Christie), spend a week on remote Tsunojima Island, attracted to the place, and its eerie 10-sided house, because of a spate of murders that transpired the year before. That collective curiosity will, of course, be their undoing.
 
As the students approach Tsunojima in a hired fishing boat, 'the sunlight shining down turned the rippling waves to silver. The island lay ahead of them, wrapped in a misty veil of dust,' its sheer, dark cliffs rising straight out of the sea, accessible by one small inlet. There is no electricity on the island, and no telephones, either.
 
A fresh round of violent deaths begins, and Ayatsuji's skillful, furious pacing propels the narrative. As the students are picked off one by one, he weaves in the story of the mainland investigation of the earlier murders. This is a homage to Golden Age detective fiction, but it's also unabashed entertainment."
Paperback || 288 pages || 5.05" x 7.78"