---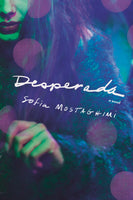 Desperada
Sofia Mostaghimi (CA)
In Sofia Mostaghimi's sensational debut novel, a young Iranian-Canadian woman quits her job after her younger sister dies, and then flees her family, seeking escape and possibly transformation in travel, sex and drugs.

desperada (feminine desperado) in dire need of something; being filled with, or in a state of despair; hopeless; without regard to danger or safety; reckless; furious

Kora can't make it through the funeral for her little sister, Kimia, the bright star of her Iranian-Canadian family. She also can't go on with her life as if nothing has happened. Shocking her family and friends, she quits her job and books a one-way flight away from home, seeking experiences that will obliterate her sadness. Or maybe help her become more like Kimia, who was always able to act on her own desires and keep other people's expectations at bay. 

Kora lands first in Iceland, chasing an old flame, trying to lose herself in "love." When that doesn't work out, she takes off again, for Paris, then Barcelona, Berlin, Istanbul and finally the party beaches of Thailand, drowning her grief and fear in alcohol, drugs, and sex. Her sexual encounters are always reckless, and sometimes dangerous. But almost despite herself, Kora begins to build an understanding of how to go on living after someone you love has died. By blowing up all the conventions that kept her ignorant of herself and her desires, she finds a path to healing.

Desperada is a provocative high-wire act of self-obliteration and self-discovery, thrilling, urgent and compulsively readable.
Hardcover || 320 pages || 6.00" x 9.00"