---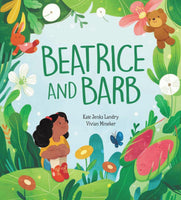 Beatrice and Barb [OCT 3]
Kate Jenks Landry
EXPECTED RELEASE OCT 3, 2023


THIS IS A PRE-ORDER ITEM; RELEASE DATES ARE SUBJECT TO CHANGE/DELAYS
In this heartfelt story of friendship, a young girl is determined to save her most unlikely pet.
Beatrice desperately wants a pet of her own. Her mom has other ideas. No dog. No cat. No hedgehog. They finally reach a compromise, and Beatrice gets ... a Venus flytrap. Being a good sport, Beatrice makes the best of things. She gives her new friend a name, Barb. She does all the things with Barb that good pet owners do, such as taking walks and playing fetch. Only, now, despite all the love and care, Barb is starting to look sick, with black spots on her leaves and some parts of her turning mushy. Beatrice knows she has to find a way to save Barb. But how? The debut picture book from author Kate Jenks Landry offers a universal and powerful message about how to take care of those we love. It also celebrates differences, unique friendships and what makes each of us special (like how Barb needs to eat bugs to survive!). This story has strong curriculum connections to social-emotional learning and offers excellent character education lessons on caring, perseverance and responsibility. Vivian Mineker's illustrations are imbued with the soft greens of plant life and beautifully convey the warmth and affection at the heart of the story.
Hardcover || 32 pages || Ages 3-7 || 9.00" x 10.00"