---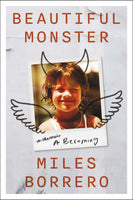 Beautiful Monster
Miles Borrero
A breathtaking, exquisitely crafted memoir about a trans person's singular journey through breaching the boundaries of gender—across generations, cultures and borders—to become his truest, most authentic self.

Nearing the age of forty, with an entire life already lived as a woman—half in Colombia, half in the US—Miles Borrero comes face to face with his father's impending death. Suddenly realizing that he has been stalling his transition for fear of losing his family's love, this moment catalyzes Miles's determination to be fully known as his father's son before it is too late.

In Beautiful Monster, Miles chronicles his unusual childhood, by turns riveting and hilarious, in '80s and '90s Colombia during the Pablo Escobar years, as well as his move to Salt Lake City to pursue acting and the winding trajectory that eventually lands him in the New York City yoga scene. Within these very different cultures, the realities of being queer and trans echo poignantly through the triumphs, heartbreaks, family dynamics, spiritual pursuits, and relationships that propel Miles along his path.

Sublimely nuanced and written in ravishing prose that is as unique and irresistible as its subject, Beautiful Monster is one person's story of navigating the pressures to perform femininity while becoming a gender outlaw. Brimming with wonder, humor, and mythos, entertaining and enlightening in equal measure, this book offers a compelling case for embracing one's true nature.
Hardcover | 240 pages | 5.50" x 8.25"