---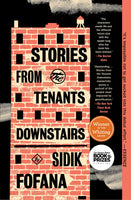 Stories from the Tenants Downstairs
Sidik Fofana
CLEO'S PICK
This is an absolute masterclass in voice, entwining short stories and writing characters. Every story is so full of life, of hopes and dreams, and what can happen when they're unattainable, when the living Ain't easy. I loved this book so much.    -CP
 From a superb new literary talent, a rich, lyrical collection of stories about a tight-knit cast of characters grappling with their own personal challenges while the forces of gentrification threaten to upend life as they know it.

At Banneker Terrace, everybody knows everybody, or at least knows of them. Longtime tenants' lives are entangled together in the ups and downs of the day-to-day, for better or for worse. The neighbors in the unit next door are friends or family, childhood rivals or enterprising business partners. In other words, Harlem is home. But the rent is due, and the clock of gentrification—never far from anyone's mind—is ticking louder now than ever.

In eight interconnected stories, Sidik Fofana conjures a residential community under pressure. There is Swan, in apartment 6B, whose excitement about his friend's release from prison jeopardizes the life he's been trying to lead. Mimi, in apartment 14D, hustles to raise the child she had with Swan, waitressing at Roscoe's and doing hair on the side. And Quanneisha B. Miles, in apartment 21J, is a former gymnast with a good education who wishes she could leave Banneker for good, but can't seem to escape the building's gravitational pull. We root for the tight-knit cast of characters as they weave in and out of one another's narratives, working to escape their pasts and blaze new paths forward for themselves and the people they love. All the while we brace, as they do, for the challenges of a rapidly shifting future.

Stories from the Tenants Downstairs brilliantly captures the joy and pain of the human experience in this "singular accomplishment from a writer to watch" (Library Journal, starred review).
Paperback | 240 pages | 5.50" x 8.37"