---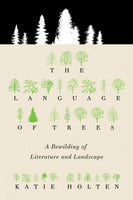 The Language of Trees
Katie Holten
Inspired by forests, trees, leaves, roots, and seeds, The Language of Trees: A Rewilding of Literature and Landscape invites readers to discover an unexpected and imaginative language to better read and write the natural world around us and reclaim our relationship with it. In this gorgeously illustrated and deeply thoughtful collection, Katie Holten gifts readers her tree alphabet and uses it to masterfully translate and illuminate beloved lost and new, original writing in praise of the natural world.
With an introduction from Ross Gay, and featuring writings from over fifty contributors including Ursula K. Le Guin, Ada Limón, Robert Macfarlane, Zadie Smith, Radiohead, Aimee Nezhukumatathil, James Gleick, Elizabeth Kolbert, Plato, and Robin Wall Kimmerer, Holten illustrates each selection with an abiding love and reverence for the magic of trees. She guides readers on a journey from creation myths and cave paintings to the death of a 3,500-year-old cypress tree, from Tree Clocks in Mongolia and forest fragments in the Amazon to the language of fossil poetry, unearthing a new way to see the natural beauty all around us and an urgent reminder of what could happen if we allow it to slip away.
The Language of Trees considers our relationship with literature and landscape, resulting in an astonishing fusion of storytelling and art and a deeply beautiful celebration of trees through the ages.

Hardcover | 320 pages | 6.24" x 9.27"