---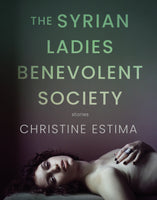 The Syrian Ladies Benevolent Society
Christine Estima (CA)
Indelible linked stories centred around Azurée, a young Arab woman living in the echoes of her ancestors' voices.
Masterfully tracing the deep roots of the Arab immigrant experience, these interlocking stories follow an Arab family as they flee the Middle East in the nineteenth century, settle in Montreal in the twentieth, and face the collision between tradition and modernity in the twenty-first. This family includes trailblazing Lebanese freedom fighters, undercover operatives in World War II, and brave Syrian refugees trying to find their place in Canadian society. This line of daring women culminates in Azurée. 
As a young Arab woman living in the wake of her family's histories, Azurée contends with all the meanings of her blood—ethnicity and lineage, sexuality and menstruation, pain and death. Over the years, through many romantic entanglements, Azurée journeys from teen mallrat to searching student to troubled traveller, until she finally stands in her ancestral home ready to confront her past—and her future.

With imaginative aplomb and abiding passion, the unforgettable connected stories in The Syrian Ladies Benevolent Society explore love and suspicion, trust and betrayal, faith and despair, war and displacement in an explosive debut collection that pushes the expectations for Arab women beyond conventions, beliefs, and borders.
Paperback | 208 pages | 5.50" x 7.00"