---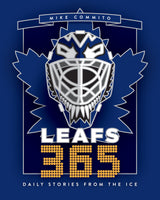 Leafs 365
Mike Commito (CA)
Now you can cheer for the Toronto Maple Leafs every day of the year, even when they're out of the NHL playoffs.
Get your daily Toronto Maple Leafs fix with Leafs 365. From the franchise's early beginning as the Arenas and the St. Patricks to the incredible four-goal comeback against the Lightning in the 2023 Stanley Cup Playoffs, Leafs 365 includes 365 short stories about everybody's favourite hockey team — one for every day of the year — to remind you why you still cheer for the blue and white season after season.
Some people say that the Leafs are cursed, but any team that brings you this many moments worth revisiting must be blessed. You may not be old enough to remember the team's last Stanley Cup, but chances are you can recall Auston Matthews's four-goal debut or the sense of optimism when the Leafs signed John Tavares. And while there are plenty of stories in this book that might make you question why you still root for the Buds, like the Game 7 meltdown to the Bruins in 2013 or losing to the Hurricanes, who had a Zamboni driver in net in 2020, the lowlights are what make the best times sweeter and worth celebrating. Chances are, if you're holding this book in your hands, you're a Leafs fan, and with every turn of the page you'll fall in love with them all over again.
Hardcover | 416 pages | 5.50" x 7.00"