---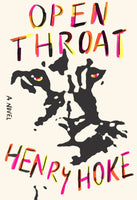 Open Throat
Henry Hoke
CLEO'S PICK
I read this in one sitting. Lyrical, stream of conscious that I couldn't put down. The first line reads, "I've never eaten a person but today I might." I love you queer mountain lion (based on a real mountain lion that lived by the Hollywood sign, P-22), maybe you will love them too.   -CP

A lonely, lovable, queer mountain lion narrates this star-making fever dream of a novel.

A queer and dangerously hungry mountain lion lives in the drought-devastated land under the Hollywood sign. Lonely and fascinated by humanity's foibles, the lion spends their days protecting a nearby homeless encampment, observing hikers complain about their trauma, and, in quiet moments, grappling with the complexities of their gender identity, memories of a vicious father, and the indignities of sentience.

When a man-made fire engulfs the encampment, the lion is forced from the hills down into the city the hikers call "ellay." As the lion confronts a carousel of temptations and threats, they take us on a tour that spans the cruel inequalities of Los Angeles and the toll of climate grief. But even when salvation finally seems within reach, they are forced to face down the ultimate question: Do they want to eat a person, or become one?

Henry Hoke's Open Throat is a marvel of storytelling, a universal journey through a wondrous and menacing world recounted by a lovable mountain lion. Feral and vulnerable, profound and playful, Open Throat is a star-making novel that brings the mythic to life.
Hardcover | 176 pages | 7.75" x 5.62"