---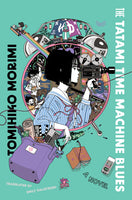 The Tatami Time Machine Blues
Tomihiko Morimi
In the boiling heat of summer, a broken remote control for an air conditioner threatens life as we know it in this reality-bending, time-slipping sequel to The Tatami Galaxy.
During a scorching August in Kyoto, our protagonist and his worst friend, Ozu, are locked in a glaring contest in a four-and-a-half-tatami-mat room. Ozu has spilled Coke on the air conditioner's remote control—the only AC in Shimogamo Yusuisuiso, their famously shabby sweatbox of an apartment building. Vengeful and despairing, our protagonist discusses countermeasures with his secret crush, the reliably blunt Akashi, when Tamura, a strange young man with a bad haircut, appears.
Tamura claims to be a time traveler from 25 years in the future, and shows off the time machine he uses to travel. Our protagonist has a brilliant idea: the sweetest revenge would be to go back one day in time and retrieve the functioning remote control. His simple fix is complicated by Ozu and several others who are also eager to take a ride back in time. But in attempting to alter the past, our protagonist foresees the world's extinction. Even more troublingly, Akashi mentions she's bringing someone to the upcoming bonfire . . . and it's not him. Only one thing remains certain: it's going to be a very long month.
Obliteration? Salvation? Coca-Cola? Castella cake? What does the time machine hold for our (not quite) heroes? It all depends on which one gets there first.
Translated from the Japanese by Emily Balistrieri
Hardcover | 192 pages | 5.50" x 8.25"