---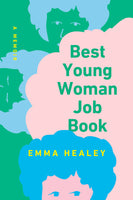 Best Young Woman Job Book
Emma Healey (CA)
STEPHANIE'S PICK
If you've ever had the pleasure of conversing with Emma at our Junction location, you know exactly what is in store. You'll be laughing while crying and begging for more. I wish I saw the world like she does - SC
A witty, soulful memoir about trying to make a living under the burden of unwelcome truths.


Emma Healey just wants to be a writer.
As a teenager, she is introduced by her actor/playwright mother to the role of "standardized patient," performing illness as a living training dummy for medical students. In university, she joins a creative writing program, cultivating a poet's interest in language while learning lessons about the literary world that have more to do with survival than art. Through her twenties, she writes software manuals for the world's leading producer of online pornography, masters search engine optimization for a marketing firm run out of a bedroom by two Phish-loving brothers, narrowly escapes death as a research assistant for a television drama, and works the night shift captioning daytime TV. Along the way, as she navigates dating apps, tumultuous relationships, and the evolution of a voice that she is slowly learning to trust, she begins writing personal essays for money—and finds herself embroiled in a content economy that blurs the boundaries between day job and art-making even further.
Through the stories of several very odd jobs, each related to—but also achingly far from—the job she really wants, poet and essayist Emma Healey creates a unique snapshot of the gig economy that is also a timeless meditation on identity, value and language.
For a writer trying to pay the bills, life can be a work in progress.

Hardcover || 320 pages || 5.50" x 8.25"